THE ENGAGEMENT SESSION
(and why it's so important!)
Most couples want an engagement session; not all of them realize how much it will help them prepare for their wedding day.
We LOVE engagement sessions. While we sometimes have met our clients (ranging from close friends to bridesmaids from previous weddings we've shot to complete strangers who we've only had email correspondence with), we typically haven't had our clients in front of our lenses for an extended period of time. Some of our clients who book online don't even meet us until the day we do their engagement session. While that can make some people nervous in front of the camera, it's definitely preferable to being nervous in front of the camera on your wedding day!
| | |
| --- | --- |
| | |
Our engagement sessions are painless. We encourage dressing naturally... and whether that's a dress shirt and tie with a vest, a cute sundress, or jeans and flip-flops, we want you to feel like you. If you would never-in-a-million-years dress up and wear heels, we definitely don't want to pressure you into doing so for your engagement session! On the other hand, if you love dressing up and can strut your stuff in five inch stilettos... well, Em really does love shoes, so go for it. As you can see in the images in this article, our clients wear a wide variety of clothes, ranging from ultra casual to urban and chic.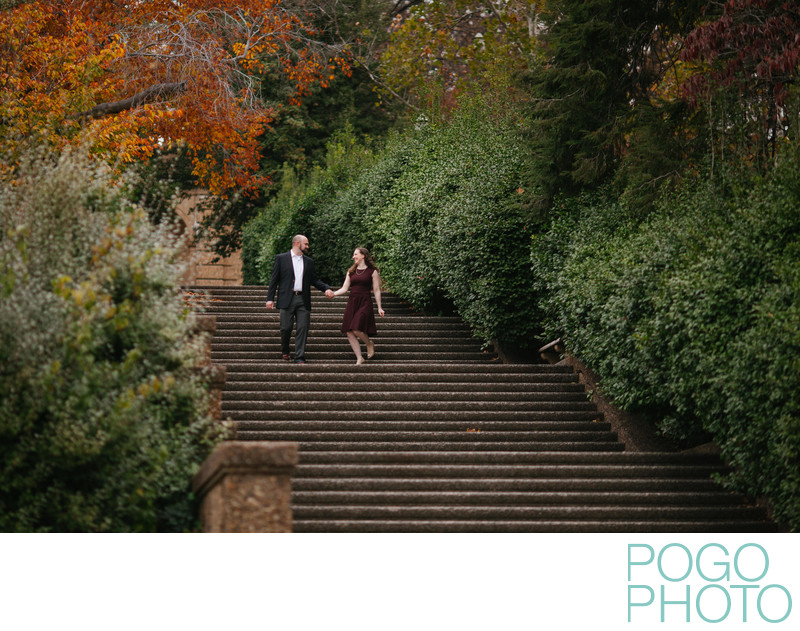 While we love having the luxury of lots of time for a portrait session (something that isn't always readily available on the average wedding day), that isn't the main reason we love engagement sessions. The main reason is that it allows us (as a couple, as photographers, as people) to get to know you. At the same time, we're able to discover how you feel and behave when you're in front of our lenses; whether you are shy, or serious, or dissolve into fits of giggles. These are actually really important things for us to know— on your wedding day we'll remember how you felt in front of the camera during your engagement session, and will know if your serious face means, "I'm just being me" or if it means, "Help, I'm gonna have a meltdown!"
| | |
| --- | --- |
| | |
For many couples, the engagement session is the first time in front of a professional photographer since childhood, and quite possibly their first experience with "lifestyle photography," which is less posed and more natural than the "say cheese!" studio photography many people are familiar with. We put you in beautiful light, help position you to your best advantage, and then let you be naturally in love with each other. (And don't worry— we do get some straightforward smiling shots for your parents and Facebook!) Most of our couples end up having a great experience and some even tell us that they felt like we were all just hanging out— nearly forgetting about the cameras we keep aiming at them. When the wedding day rolls around, even the most camera-shy groom already feels comfortable with Steve and his huge zoom lens, and every bride already knows she'll be her naturally stunning self in the portraits Em makes— because both got the camera-jitters out well in advance of the big day.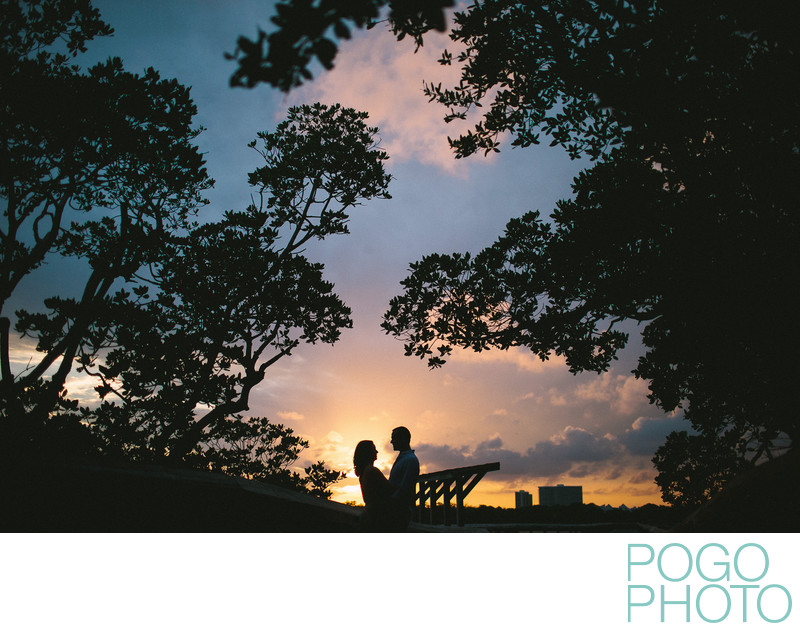 ENGAGEMENT FAQ
Q: I'm terrible in front of the camera! Should I just skip the engagement session?
A: Definitely not! One of the best things about this session is that you'll be able to start feeling comfortable in front of the camera. This will make photography on your wedding day sooo much easier.
Q: I'm SUPER EXCITED about engagement portraits and can't wait to get started! I have a million ideas... how many locations can we have? And how many outfits? Can we travel? Can you do a styled shoot?
A: Yay! We love that you're so excited and can't wait to hear your ideas! We recommend keeping locations to a minimum, as we don't want to waste beautiful light by driving around a lot. Multiple outfits can work as long as you can be flexible about where you change, but we prefer to keep things simple. We can definitely travel— travel fees will apply, but we keep them reasonable. And styled shoots are great! Let us know what you're thinking!
Q: We already had engagement portraits taken by another photographer. Should we still schedule a session with you?
A: We highly recommend it! Our style of photography is very personal, and while we can show up and create beautiful wedding portraits without having met you in person prior to the big day, the connection we develop with our engagement session clients enhances our wedding images enormously. Thinking of having your engagement photos somewhere particularly interesting? Do tell. :-)
All content ©2019 Pogo Photo (Emily Pogozelski). Contact us via email by clicking here.