INSIDE THE POGO WEDDING
What we learned + what we loved
Despite having photographed many weddings before we started planning our own, we found the whole process overwhelming! It definitely gave us a newfound appreciation for our multitasking brides and grooms. We figured we could share what we learned during our own wedding (at Sumner Mansion Inn, Hartland VT) and hopefully help you with making your day amazing.

Our top suggestions:
Before you make any concrete decisions, get organized. We got married right before the super-helpful website Pinterest got started and we're so jealous of couples who can make virtual pinboards of pretty much anything they find on the internet. Search by keyword, browse the pinboards of friends or strangers, and organize your ideas in whatever way you think is best. You could even gather ideas in 2 or 3 different styles to really get a feel for what you want to do.


If you're having a beauty professional do your hair and/or makeup, schedule a trial at least a week or two in advance of the wedding. Have someone photograph the results and talk it over with your stylist. Don't be afraid to speak up if it's not exactly what you wanted, and make sure your stylist gets it right during the trial! Em's hair trial left a lot to be desired, and despite mentioning how it could be improved for the wedding day, the same mistakes were made and the suggestions were ignored. (This is one of the only things she wishes she had done differently; all-in-all not so bad!)


Don't take everything on by yourself, but only delegate to those who can handle it. In retrospect, we wish we had hired a day-of coordinator, but we managed to struggle through without too many things falling through the cracks (like our maple sugar candy favors, which we didn't remember until after all of the guests departed). Some of our family members who volunteered to help were amazing, and some others... well, they may have been a little distracted by the emotional aspects of the day. This is more our fault than anything else and really showed us that sometimes it's best to hire a professional than to get family or friends involved with crucial wedding details.


Most of all, when the big day comes, don't sweat the small stuff. When it all comes down to it, a wedding is a party celebrating your love; relax, let go, and enjoy.

| | |
| --- | --- |
| | |
Family Time
Em chose to have her younger sister as her only bridesmaid and banned everyone from her getting ready space except for her mother, sister, and talented wedding photographers. Doing this kept the drama to a minimum and allowed for some nice bonding moments between "the girls" before the rest of the day sped on. An added photographic bonus was a cleaner space as a backdrop for the images.
Tip: leave extra time to get ready. No matter how much time there is, something will always run long, whether it's having to start over on your makeup or some unexpected sewing on the dress.
Something You Love
At some point soon after the Pogos got engaged, Em fixated on the idea of having blue heels for her wedding shoes. (And yes, this was because of the then-recent movie, "Sex in the City" and the Manolo Blahnik Something Blue Satin Pumps that Carrie so desperately loves.) After eyeing $5000 blue crocodile Christian Louboutin pumps at a Las Vegas boutique, Em found these cobalt Stuart Weitzman satin slingback stilettos, which fit the vibrant blue color she was seeking without breaking the bank. The wedding theme quickly developed into "blue... pretty much anything blue."
Unbearably uncomfortable, these beauties now sit on a shelf at the Pogo house, a colorful reminder of our day. No regrets! But definitely not wearing them again.
Wedding Day Shoe Tips:
If you want serious height, get a shoe with at least a small platform built in. Not only will you be taller without as much of an incline for your foot, they're much more comfortable to walk in.
Getting married on grass? Flats or wedges will keep you from sinking into soft ground.
Love your Keds or Docs or Vans or Nikes or your dirty beach flip-flops? GREAT. The better your feet feel the more fun you'll have, and our top priority is that you have a great time at your wedding.
Trust us: you're going to be wearing the biggest grin you've ever had. No one's going to look at your feet.
Do It Your Way
Our rule of thumb is this: if someone is pitching a fit about something you are or are not doing on the wedding day, and that someone is not one of the two people getting married... their opinion doesn't count.
Take a deep breath and respectfully thank them for their input. Then do it your way anyway. You'll be happier in the long run, and if not throwing the bouquet really ruins your cousin's life... well, she'll get over it.
This extends to any part of your wedding, from name changing to having a first look to having a DJ announce you when you enter the reception. This is your day! Make it your own and do what you want.
Sweet Paper Suite
Paper! Oh, we love paper goods. Having a cute paper suite is doable even if you don't want the super traditional engraved invitations your grandmother keeps pushing. We chose to go with a recycled paper suite that Em designed using meaningful and sweet symbols (a maple tree, an old camera, love birds), all printed on recycled paper from one of the vendors we regularly use in our photography business.
Another great option that has popped up in the last decade or so is small letterpress studios, which are located all over the country. Letterpress is a beautiful printing process that adds a deep texture and a handmade feel using centuries-old techniques. You can work with talented designers to customize a designed suite they already have on file, or go the completely custom route by having the designer create something new, just for you.
A CLIENT FAVORITE:
Gus & Ruby Letterpress, Portsmouth NH
https://gusandruby.com/
Vows + Rings
This part of the day is by far the most important. No matter what else happens, whether everything is perfect or everything goes wrong, as long as you tie the knot your wedding day was a success.
We found a location in Vermont that was meaningful to us: a 200+ year old maple tree shading everyone, set perfectly in the backyard of Sumner Mansion. We faced our guests with our officiant next to us so that we could look into the faces of our families and friends during these significant moments.
We also worked in some lightheartedness: rock-paper-scissors to see who would say their vows first, some playful banter, and an exploding fist bump right before our kiss.
Make Your Wedding Personal
One of the things we had trouble with initially was deciding how to decorate our reception space. Our entire wedding was at the Sumner Mansion Inn, a small bed-and-breakfast on a hill in tiny Hartland, Vermont. The Inn's property is very antique and rustic, which made us want to avoid covering it with too much of anything; large floral arrangements would have overwhelmed the natural charm of the venue.
We finally settled on blue vases with local wildflowers (collected from fields by a friend of the family on the morning of the wedding and arranged by Steve's long-time friend and former florist Karen, who also created Em's bouquet). These were paired with vintage cameras, collected by Steve's mom, who scoured junk shops in Florida for months before the wedding.

The end result combined a bit of the blue we were sprinkling into everything, our mutual love for photography, and the genuine natural beauty of summertime in Vermont. Saving money wasn't really the object here, but it was a bonus side effect of doing something so simple and DIY for our tables. (We also got rid of most of the vases by sending them home with guests.)

Our Favorite Wedding Day Memories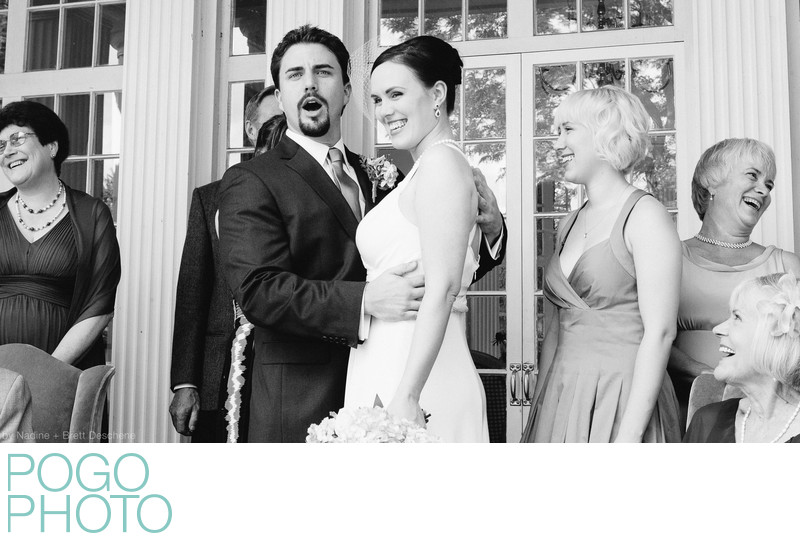 FAMILY FUN: We scheduled a time for family formals after our First Look as an informal get together by including an extra card in the invitation. Light snacks and beverages, awkward moments and laughter; the perfect family gathering. This let us take time to get the formal groupings we needed without it being a huge rush (and without keeping anyone from the bar immediately after the ceremony).
Tip: If you decide to do this, make sure you set a false "start time" to ensure everyone is present and accounted for. Every family has someone who is perpetually running behind. :-) Equally important: have a very precise (and concise) list of must-have family groupings to keep things organized.

EXCITED + HAPPY: Steve discovering the surprise inscription inside his wedding band (an inside joke that barely makes sense to us); Em moments before heading to our First Look, just a little bit nervous.
FABULOUS FLORALS: Em's hydrangea and rose bouquet was created as a gift by our florist friend Karen
VERY VERMONT: Some friendly Vermont cows during our Day After Session; very curious!
SELF PORTRAIT QUEEN: You didn't think Em would be able to leave the cameras alone all day, did you? Self portrait taken with her Lumix GF1.


RECEPTION MUST-HAVE: Casual, fun, and sometimes hilarious photo booth moments, we highly recommend it.
WE SAY "WE DO": Loving every minute of our ceremony in front of a 200 year old maple tree.
DANCE TIL YOU DROP: Our song was "Lucky", by Jason Mraz. It describes our relationship perfectly.

PARENT DANCES: Steve with his mom, Kathy; Em with her dad, Ted. (We love these photos.)
CUT THE CAKE: Well, the cupcake. Locally baked at the King Arthur Flour Cafe and extra delicious! The cake stand was a surprise dual effort from Em's dad and stepdad, including the model Mustang topper with paper doll versions of us on a road trip.


Looking back on our wedding day, our favorite memories involve things we didn't expect. Spending time with each other in the days leading up to the wedding finalizing details, the excitement in the air immediately before our rehearsal started, and the relaxed joy we felt after seeing each other at our First Look; each of these moments was a tiny surprise.

We had initially planned our wedding for August of 2011, a full year later than it actually happened. Em's maternal grandmother hinted that she would really love for our wedding to be sooner than two years away, and so we restructured our plans quite a bit. This involved a change of venue, and a shortened time table for a wedding in a region where most brides plan 18 months in advance, but we managed to make everything work. Em's grandfather passed just a few months after making it to the wedding, so we're glad we were prodded into doing everything earlier than we would have. Now that it's over we can't imagine things any other way.
One of the best memories we have of our wedding weekend is the day after. We were comically late for brunch (we looked outside, saw no cars, went right back to bed; turns out everyone parked in the lower lot because we didn't take down the parking signs from the day before), and managed to only barely drag ourselves to our Day After Session, nearly falling asleep in the car on the way there. We then proceeded to hike a mile up a mountain (Steve wore his dress shoes; Em did not), take in beautiful Vermont views of the surrounding hills, get silly with crab apples, shiver in the chilly mountain breeze, and make friends with a herd of friendly Jersey cows. As soon as we returned to the inn, a huge rainstorm erupted, dousing the entire region. We happily devoured leftover lasagna from the wedding with our photographers and drank pomegranate-rum punch until we fell asleep.

DAY AFTER SILLINESS: Yep, this is pretty much "us" in one photo.
The biggest surprise was how important our ceremony felt. We had planned it as almost an afterthought; we knew we wanted it under the huge maple tree, we knew we wanted to write our own vows, and we put some time into coming up with quotes and readings for loved ones to contribute. Em's aunt, mother, and sister provided the beautiful music for the ceremony, including Etta James' "At Last", which still brings tears to our eyes every time it's played.
Maybe because we had already seen each other earlier in the day for our First Look and our get-together with our families for formals, the ceremony didn't hold any anxiety for either of us. Em strode confidently down the aisle with her dad, and only wobbled a bit (but mostly because of those pointy heels). We found that once we were up there standing together, the small annoyances of life melted away. We were headed into our future together, and nothing could feel more right.
Images on this page were taken by our dear friends Nadine + Brett Deschene. Many thanks for capturing our wedding celebration so beautifully.
All content ©2023 Pogo Photo (Emily Pogozelski). Contact us via email by clicking here.