MEET THE POGOS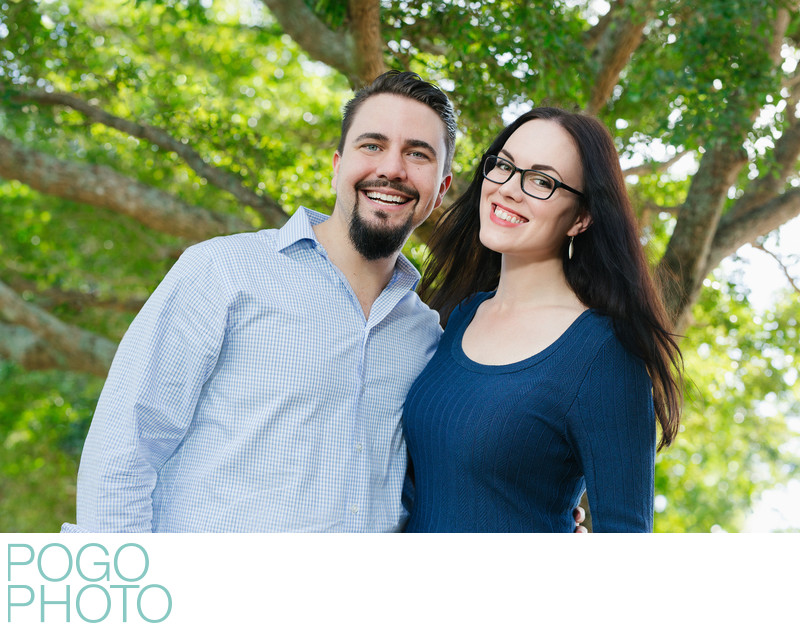 Pogo Photo is owned and operated by Em + Steve Pogozelski and is based in South Florida in the winter and in Vermont in the summer. (The best of both worlds!) We specialize in creating images of weddings and families in a documentary style; limited commercial and editorial bookings are also available around the globe.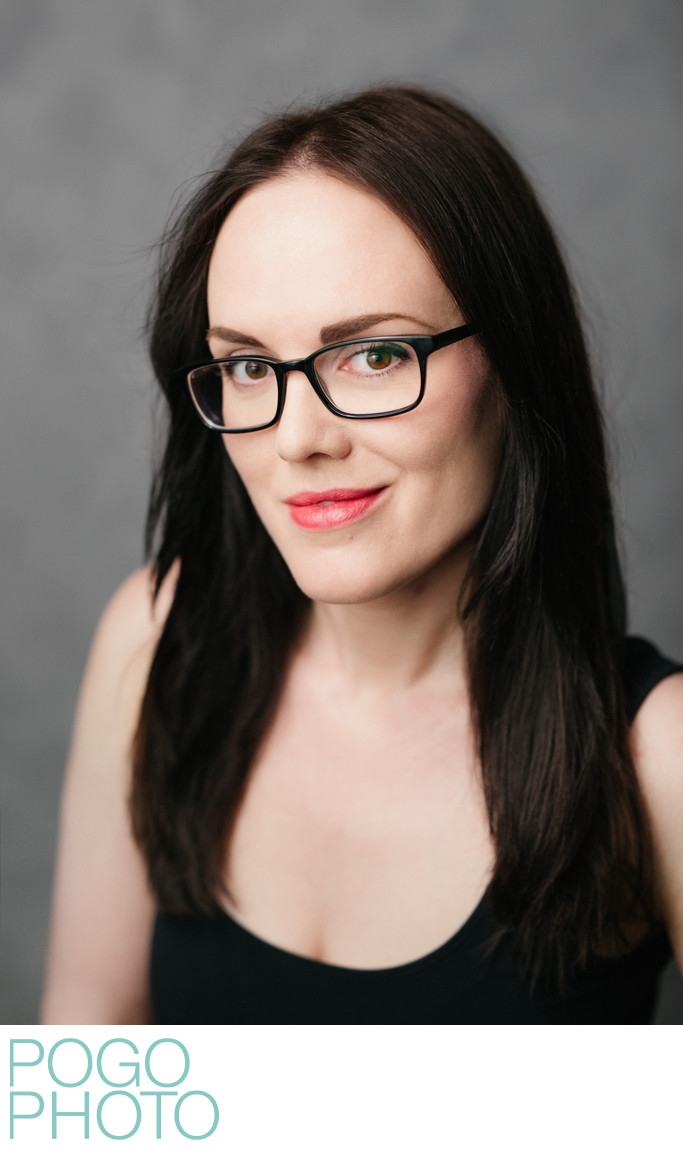 The Pogos met and fell in love in Savannah while Em was still an art student, and they still have a special fondness for that southern gem of a city. They travel for business and for pleasure, and often find an excuse to make Savannah a detour on their way elsewhere (stopping just long enough to stroll through the squares lined with sprawling oaks and grab a slice of pizza from Vinnie Van Go-Go's).
Em was introduced to traditional film photography as a teenager in Vermont, and knew from the first time she photographed her younger sister that she preferred people as her subjects. She worked on and off in the photography industry while in high school and college, eventually graduating with a BFA in Photography from the Savannah College of Art & Design in Savannah, Georgia in 2006.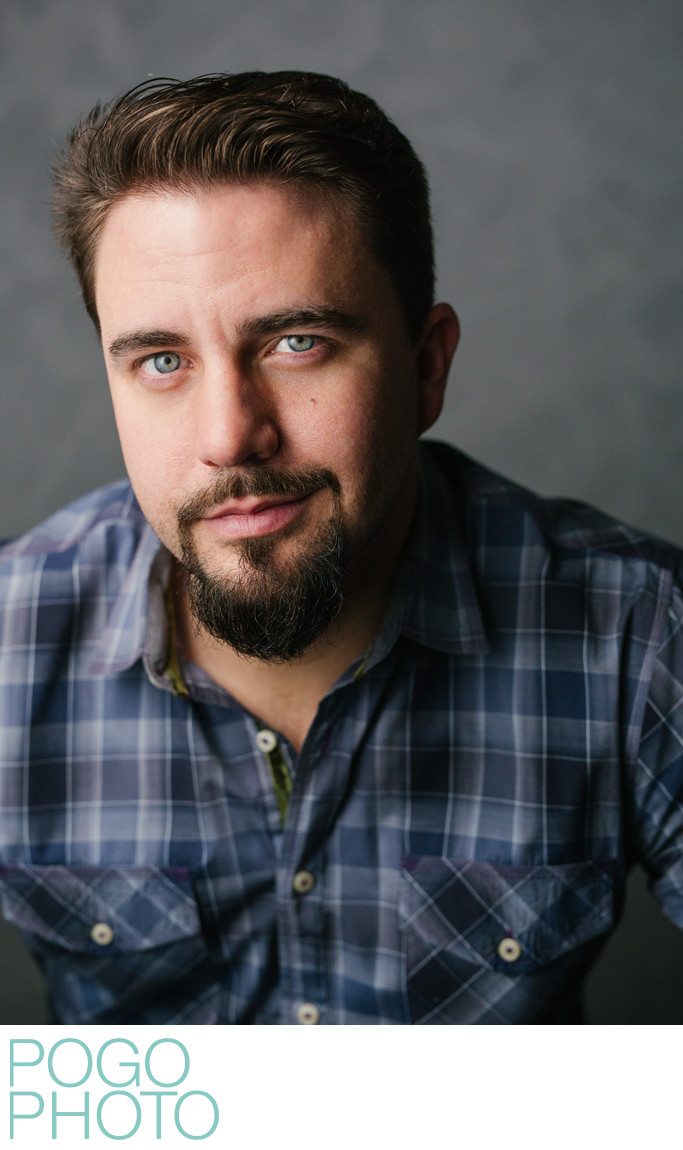 Steve excelled at anything related to math and business (having run several successful businesses at a young age) and turned to Florida Atlantic University for his double BS in Finance and Accounting in 2003. His first exposure to photography was through Em and SCAD when he posed for one of her portrait projects the first weekend they met. (It wasn't as romantic as it sounds; she had him staring seriously up at the sky with the sun searing his retinas while she fiddled with an antique field camera that took sheets of 5×7" film.)
After several years of dating long distance from Jupiter to Savannah while she wrapped up her degree, Em relocated to be with Steve in his hometown of Jupiter. It wasn't long before she began her career photographing weddings and portraits in South Florida and her home state of Vermont, and soon after that Steve started assisting and second-shooting. After several years of her tutelage (otherwise known as "Photo Boot Camp") he started developing a distinct skill and excitement for making images, and together they have enthusiastically embraced the photography industry as a business and lifestyle. Em and Steve officially tied the knot in Em's hometown of Hartland, Vermont, in 2010, and have been falling in love with each other all over again at every wedding since.
A POGO LOVE STORY

Did you want to know more? Here's the mushy stuff.
With so many millions of people in the world, we find ourselves constantly amazed and thankful that we were introduced. It happened at just the right moment, when Em was wondering if art school was the right place for her, and Steve was getting over a breakup. More than a decade has passed and we're so connected with each other that we breathe better when we're in the same room.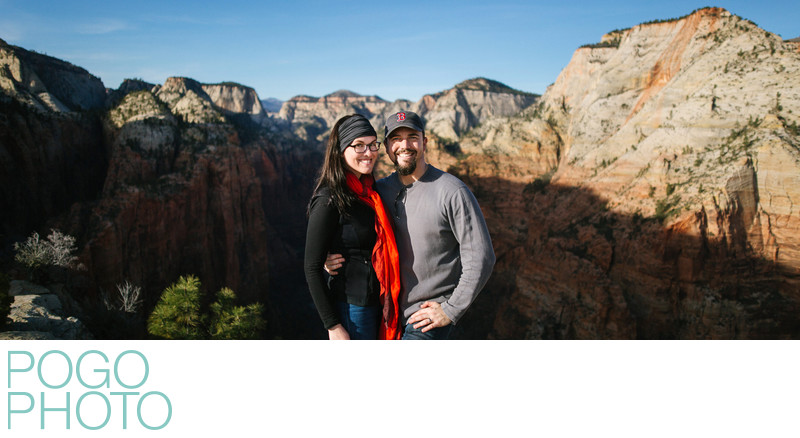 Our love story has had its ups and downs, and we never thought of the wedding as the final chapter; our wedding day was more of a beginning, the start of our own tiny family unit. We only have to spend a few days apart before we're wanting to be back together, snuggled with our cranky cat Stannis, catching up on a favorite show, trying a new restaurant, or traveling somewhere we've never been. (As long as we're together, even a jail cell would be okay.)
(Our own wedding was so fun! Click to see more and read about what we learned and what we loved.)
We take not-so-secret pleasure in documenting the wedding days of our wonderful clients, and find little reminders of our own love for each other sprinkled throughout each celebration, whether they're strikingly similar to our own day or as different as possible. The sparkle of emotion crosses all cultural, language, and geographical barriers, and it's what we look for when documenting weddings. This shows in the happy eyes of newlyweds, of course, but also in the tears of a proud momma, the nervousness of a ring bearer, and the excited joy of loved ones on both sides of the aisle.
We thrive on living and photographing life. We can't wait to see yours.
xoxo– Em + Steve
Below: One of our recent holiday card projects involved convincing our beloved fur-baby, Stannis, to sit on Steve's shoulder. (Stannis was pretty uncertain about this whole idea, but we love the end result.)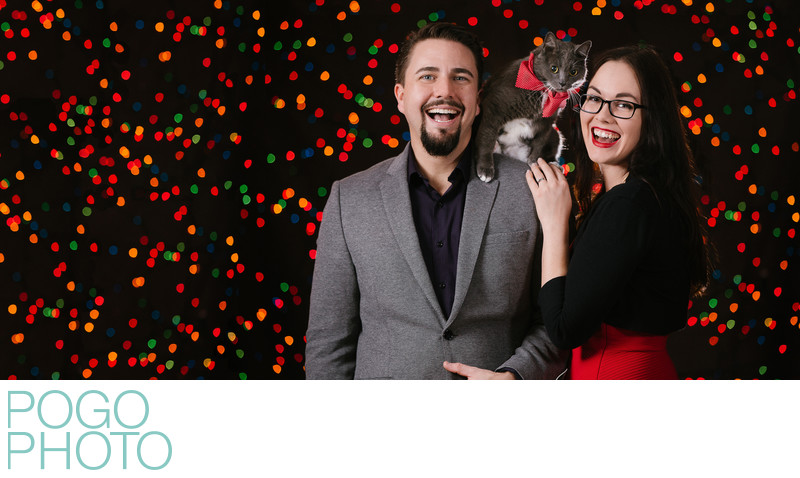 Below: Three "pogopanos", taken with iPhones in panorama mode, but aimed at us first so that we can get in a selfie with a location. We have fun with these! Check out the hashtag #pogopano on Instagram to see lots more.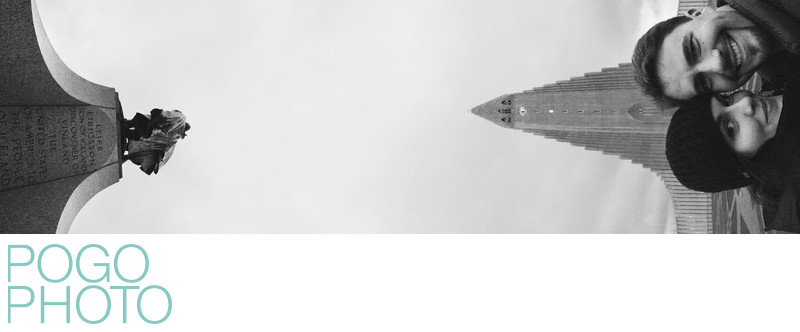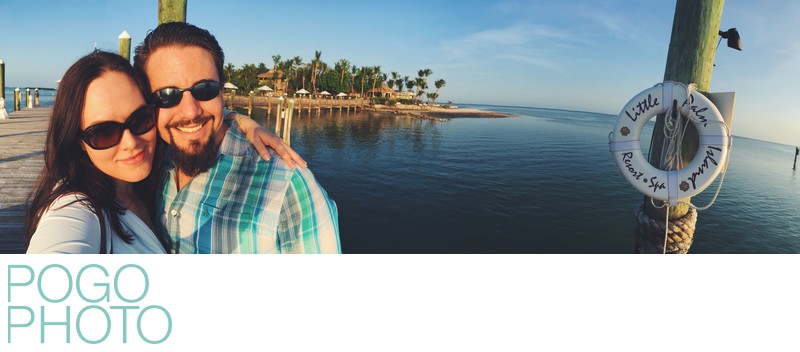 Want to know even more about the Pogos? Give us a shout. We love meeting new people and learning their stories. We can't wait. :-)

All content ©2018 Pogo Photo (Emily Pogozelski). Contact us via email by clicking here.