ALBUMS + BOOKS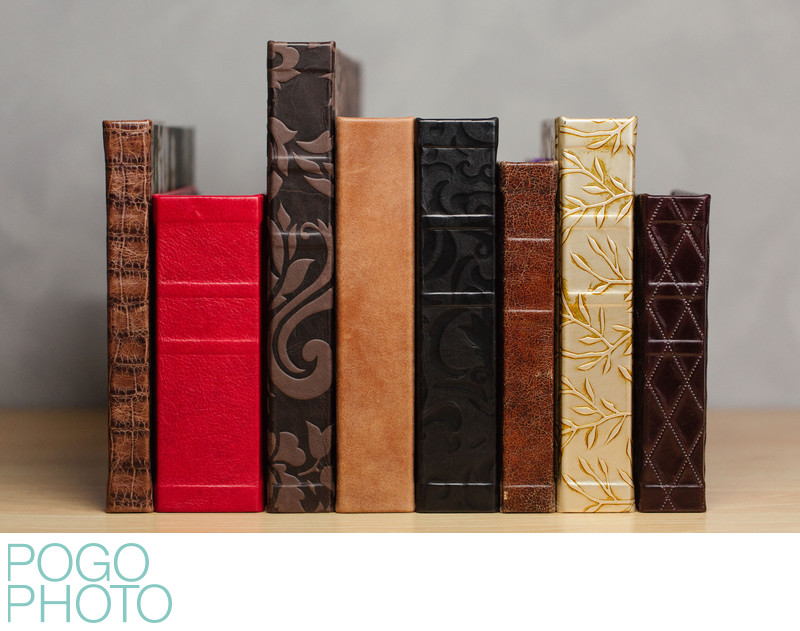 Album Design: Let us tell your story.
Your wedding album tells the story of your day: what you looked like and who was there, of course, but so much more than that. We strive to tell your story from an insider's perspective, but display it so that a casual observer could feel like they were there. Subtle nuances of the details, the way you looked at your new spouse, images that convey a sense of place; all of this is important.
We approach album design from a classic and clean perspective. Drawing from her formal fine arts training, Em creates each custom layout, focusing on the importance of each image for a more immersive experience as the book is viewed. Using white space, elements of simplicity, breathing room, and a modern aesthetic, the flow of the album is dictated by the flow of the day. For this reason, we create each design fresh, without using readily available templates or outsourcing. Your album will truly be one of a kind, just as your marriage is.
We strive to tell your story from an insider's perspective, but display it so that a casual observer could feel like they were there that day.
We understand from personal experience that it's nearly impossible to decide on your favorite images that will best tell the story of your wedding day, and so we provide the service of creating an initial album design for you as a starting point. We call this practice "predesigning," which just means that we create the first draft of your album to show you when your images are finished and ready for viewing. You will have the opportunity to review the album draft and swap out images if you wish, but happily avoid the challenge of choosing "the best". Letting our years of experience with book design guide you will keep the album creation process painless (which is a really good thing).
After the initial draft, we give you the freedom to request edits to your album design. While we may love an image that features two of your guests having an awesome time on the dance floor, it's possible that guy is your cousin's plus-one whom you'd never met before, making it an image that's less important to you. We host your album design and all of your wedding images online to enable you find the right replacement image easily.
An alternative approach to album design is to expand your album into a Coffee Table Art Book, which allows the story of your day to spread out, with more pages, more images, and more space to breathe. Curious? We have lots more info for you below, or we'd be happy to chat about it with you.
What's Your Type? Choosing the best album.
When we first started photographing weddings we began an industry-wide search for the best possible albums for our clients. Em has professional experience in photographic printing labs in addition to her education that specialized in fine art printing and digital imaging (an emerging field at the time), and had a very specific vision of what a perfect album would look like. We found one that fits our needs perfectly and offered our Signature album exclusively for years. When our clients' needs eventually expanded we started looking for an additional supplier who could produce our Coffee Table Art Book, and found exactly what we needed.
Images below: Leather Signature 8x10 Album on left; Cotton Image Coffee Table Art Book 8x10 on right.
Signature Album: a classic flush mount wedding album
We discovered the company who makes our Signature Album shortly after they started. Their philosophy is that albums should be simple, beautifully printed and bound, but with highly customizable covers. The sheer number of cover leather options (see some pictured below) is amazing: if you do the math, there are well over 10 million options. Yep, million. Don't worry; much like everything else in the album design process, we'll guide you through choosing a cover! The great part about this is that you can have a book that's perfect for your home and your wedding, whether that's an understated classic black leather or an eclectic metallic silver faux alligator, or anything in between.
In addition, we have upgrade options for our signature album covers, including images printed on metal, canvas, or a unique acrylic image option called Ice. There are options for the pages as well; you can choose classic coated luster photographic paper, modern matte photographic paper, or you can upgrade to one of the best printing surfaces in the fine art printing industry, Hahnemühle German Etching Paper.
Coffee Table Art Book: a luxurious modern alternative
After photographing many destination weddings, we realized there was an opportunity to add a different style of album to our offerings. We loved the feel and style of one book company in particular; their vision for a high-end, coffee table style fine art book was precisely in line with what we wanted for our clients. While we view this as the perfect book for destination weddings (over 200 images, 300 pages and gorgeous vellum leaves to separate sections and/or days), this book can also be a life saver for couples who love their images as much as we do and want to include as many as possible. Unlike our Signature Album, the cover options for this book are simple: a favorite image printed on beautiful organic cotton, or buttery soft leather in black, tan, or brown.
Which wedding album is best for me?
Both album options make beautiful heirloom memories of your wedding day; they're stylistically and conceptually very different from each other, often prompting couples to declare their love for one type or another. Read on for more information about both our Signature Album and our Coffee Table Art Book.

More details about our Signature Album
We found our signature album after meeting the owner of the company. We were hugely impressed by the overall quality as well as the beautiful covers they were offering, while still keeping the options simple and easy to understand. We love this company so much that we are volunteer "reps" for their albums at trade shows and conventions across the country; several times a year we're given the opportunity to tell other photographers about how much we (and our clients!) love these beautiful albums.
With nearly one hundred different premium leathers, fabrics, and non-leather materials available, the choices for what to put on your album cover are nearly endless. Don't worry, we're happy to help make some suggestions based on your preferences! Want something traditional but not stuffy? A wild material that's unlike your parents' album? How about a completely perfect match for your wedding shoes? We can help with any of those ideas, or work with you to find the perfect balance for your album.
above left: Signature Album in Textured Black Leather; above right: Signature Album in Distressed Warm Brown Leather.
below: Signature Album with upgraded material, Hand Tooled Metallic Gold Leather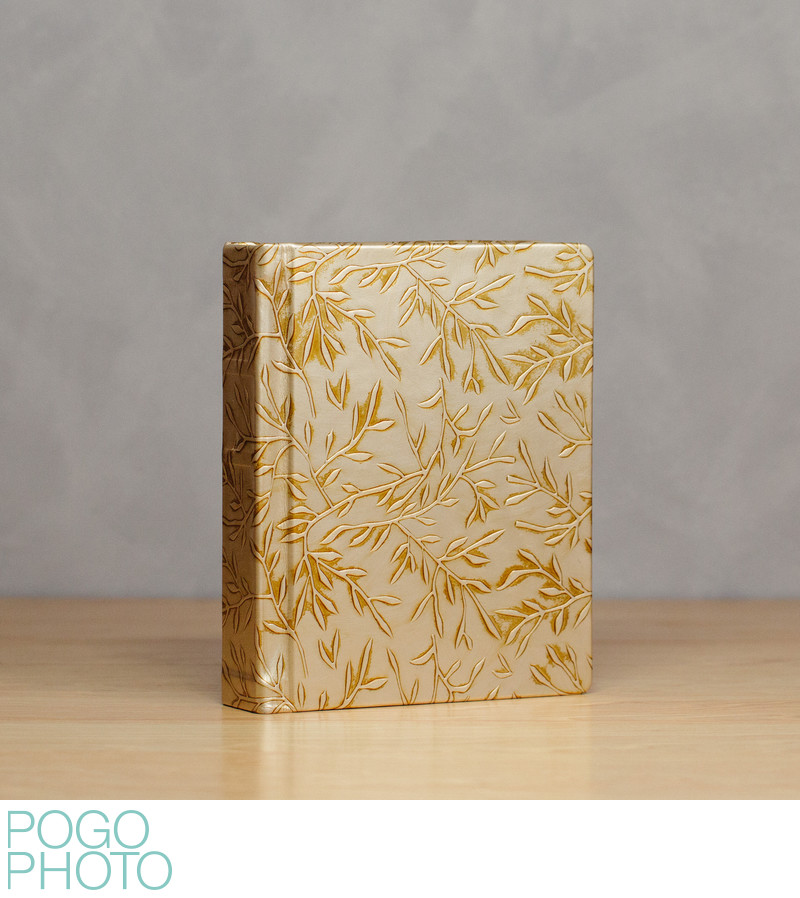 below left: Signature Album with Distressed Leather + Accent Stripe; below right: Signature Album with Red Leather.
Optional Album Upgrades
Many of our clients choose from among the millions of standard cover options, but some want to add something extra. We offer cover upgrades to take your album to the next level, with sleek printed metal, soft canvas panels, and high-gloss acrylic covers.
You may choose between modern medium thickness pages or classic thick pages; whichever you prefer. Upgrading to Hahnemühle giclée printing is also an option, which will elevate your album to fine art.
ARMOUR: printed metal cover with a leather spine for a modern look
CANVAS: leather spine for durability, canvas panel for a large image
ICE: a metallic photo mounted under thick plexiglass & leather spine
below: Armour Printed Metal Cover with Textured Leather Spine
below left: standard lustre photographic paper; below right: upgraded Hahnemühle Fine Art German Etching Paper
Mini Albums + Books: a beautiful keepsake for your parents or loved ones

The perfect gift for a loving relative or friend as a memento of your wedding day, our mini albums and books are available singly or in groups.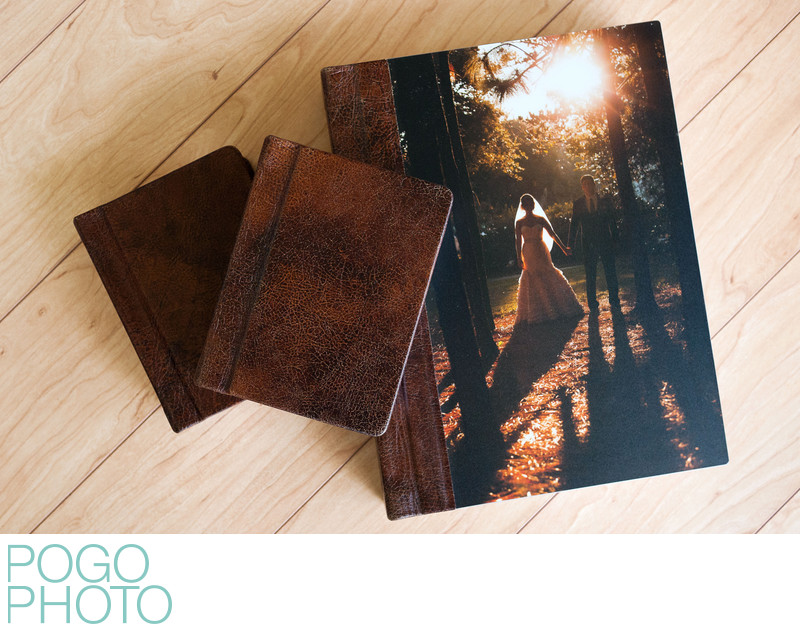 More about our Coffee Table Art Book
For our clients who can't bear to narrow things down, we offer our Coffee Table Art Book, a new approach to telling the story of your day. With 300 beautifully printed pages, we design these books with more than 200 images, which is perfect for weddings with rehearsal or day after coverage, weddings with loads of details, or for the couple who wants every moment of their day printed, ready to be paged through year after year.
Offered in two sizes (Standard, 8x10 or Large, 12x15), our Coffee Table Art Books are lovingly made by hand in Arizona, and only get better with time. These books are Smyth sewn, known in the bookmaking world as one of the most durable and beautiful methods of binding. Unlike many other hardcover book binding types, Smyth sewn bindings can actually lay flat, with little to no gutter, and the more you look at your book the more the binding will "relax" and open up to the viewer. This style of binding is rarely seen in the commercial book industry these days, which makes this option all the more special to book lovers.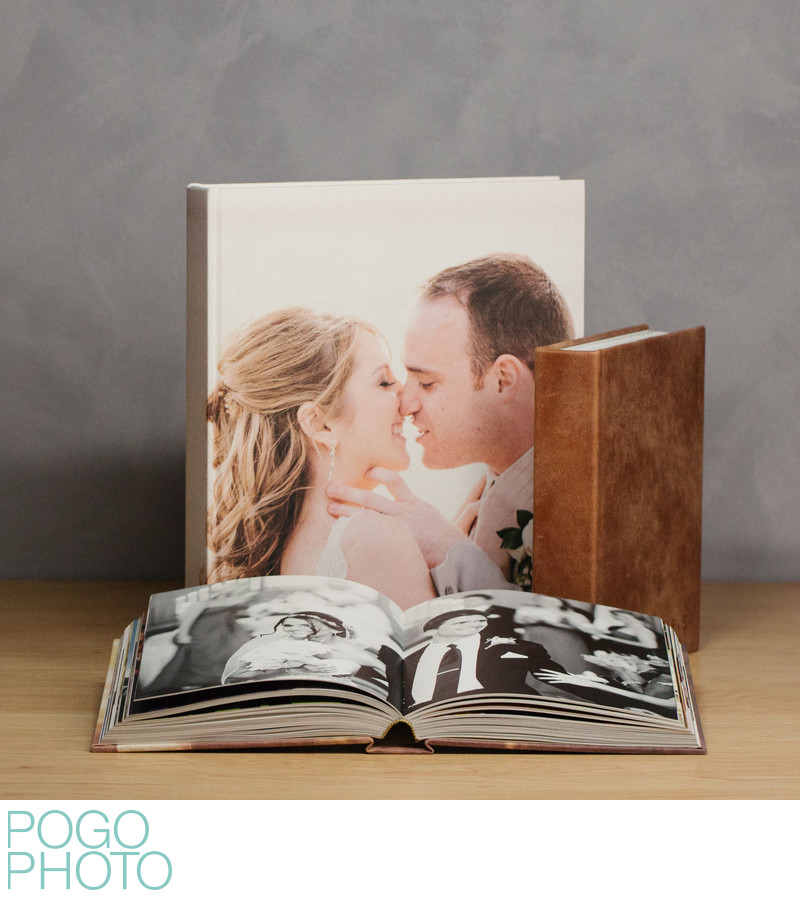 Optional Art Book Upgrades
ORGANIC COTTON: printed image wrap cover with a delicate texture (included)
BLACK OR BROWN LEATHER: gorgeous textured brown leather, in light, medium, or dark brown. Optional name embossing.
VELLUM PAGES: add something extra to your book's design by separating the sections of your day with vellum pages, or just opt for a title page at the start.
MINI BOOKS: the perfect thank you gift for someone special in your life; or keep one in your purse or at your desk for anytime-flipping.
Whew! That's the overview, but there's so much more.
We know that's a ton of information, and it might be overwhelming at first. We're here to help! We're happy to show you sample albums and art books in person if you're local to us, or we can arrange for a FaceTime viewing meeting. Please let us know if you have any questions!
For additional details and pricing information please get in touch. We'd be happy to send over our full price list or chat about more details.
All content ©2023 Pogo Photo (Emily Pogozelski). Contact us via email by clicking here.